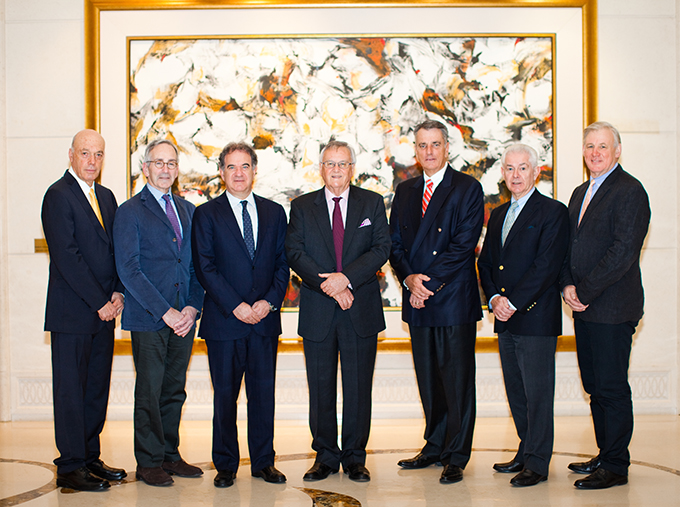 Mesoblast Board of Directors: Ben-Zion Weiner, Eric Rose, Silviu Itescu, Brian Jamieson (Chairman), Michael Spooner, Bill Burns and Donal O'Dwyer.
Brian Jamieson, FCA

Non-Executive Chairman

Mr Jamieson has served on the Board of Directors as Chairman since 2007 after retiring as Chief Executive of Minter Ellison Melbourne. Previously he was CEO at KPMG Australia, a KPMG Board Member in Australia, and a member of the USA Management Committee. Mr Jamieson is Chairman of Sigma Pharmaceuticals Ltd, a Non-Executive Director of the Tatts Group Ltd, and Director and Treasurer of the Bionics Institute. He is a fellow of the Institute of Chartered Accountants in Australia.

 

William M. Burns, BA

Non-Executive Vice Chairman

Mr Burns has served on the Board of Directors since 2014 and was appointed Vice Chairman in 2016. He spent his entire management career at the Beecham Group and F. Hoffmann-La Roche Ltd. Mr Burns was Chief Executive Officer of Roche Pharmaceuticals from 2001 to 2009, when he joined the Board of Directors of F. Hoffmann-La Roche Ltd. until he retired in 2014. He is a Non-Executive Lead Independent Director of Shire PLC, has been a Non-Executive Director of Chugai Pharmaceutical Co., Genentech, Crucell, and Chairman of Biotie Therapies Corp. from 2014 until its sale to Acorda Therapeutics Inc. in 2016. Mr Burns is also a member of the Oncology Advisory Board of the Universities of Cologne/Bonn in Germany. In 2014, he was appointed a trustee of the Institute of Cancer Research, London, and in 2016 a Governor of The Wellcome Trust in London, UK.

 

Silviu Itescu - MBBS, FRACP

Chief Executive Officer (Executive Director)

Dr Itescu has served on the Board of Directors since the Company's founding in 2004, was Executive Director from 2007, and became Chief Executive Officer and Managing Director in 2011. Prior to founding Mesoblast in 2004, he established an international reputation as a physician scientist in the fields of stem cell biology, autoimmune diseases, organ transplantation, and heart failure. Dr Itescu has been a faculty member of Columbia University in New York, and the University of Melbourne and Monash University in Australia. In 2013, Dr Itescu received the inaugural Key Innovator Award from the Vatican's Pontifical Council for Culture for his leadership in translational science and clinical medicine in relation to adult stem cell therapy. In 2011, he was named BioSpectrum Asia Person of the Year. Dr Itescu has consulted for various international pharmaceutical companies, has been an adviser to biotechnology and health care investor groups, and has served on the Board of Directors of several publicly-listed life sciences companies.

 

Donal O'Dwyer, BE, MBA

Non-Executive Director

Mr O'Dwyer has served on the Board of Directors since 2004. He has over 25 years of experience as a senior executive in the global cardiovascular and medical devices industries. From 1996 to 2003, Mr O'Dwyer worked for Cordis Cardiology, the cardiology division of Johnson & Johnson's Cordis Corporation, initially as its president (Europe) and from 2000 as its worldwide president. Prior to joining Cordis, he worked with Baxter Healthcare, rising from plant manager in Ireland to president of the Cardiovascular Group, Europe, now Edwards Lifesciences. He is a qualified civil engineer with an MBA. Mr O'Dwyer is on the Board of Directors of a number of life sciences companies including Cochlear Ltd, Atcor Medical Holdings Ltd, Fisher & Paykel Healthcare Ltd and NIB Health Funds Ltd.

 

Eric Rose, MD

Non-Executive Director

Dr Rose has served on the Board of Directors since 2013. He is currently Chairman and Chief Executive Officer of SIGA Technologies and Executive Vice President, Life Sciences at MacAndrews & Forbes, Inc., the holding company of Ronald O. Perelman. From 2008 through 2012, Dr Rose served as the Edmond A. Guggenheim Professor and Chairman of the Department of Health Evidence and Policy at the Mount Sinai School of Medicine. From 1994 through 2007, he served as Chairman of the Department of Surgery and Surgeon-in-Chief of the Columbia Presbyterian Center of New York Presbyterian Hospital. From 1982 through 1992, Dr Rose led the Columbia Presbyterian heart transplantation program in the United States. He currently sits on the Board of Directors of ABIOMED.

 

Michael Spooner, BCom, ACA

Non-Executive Director

Mr Spooner has served on the Board of Directors since 2004. During this period he has filled various roles including as Chairman from the date of the ASX public listing in 2004 until 2007, Chair of the Audit and Risk Committee as well as a member of the Remuneration Committee. Over the past several years Mr Spooner has served on the Board of Directors in various capacities at several Australian and international biotechnology companies, including BiVacor Pty Ltd (2009-2013), Advanced Surgical Design & Manufacture Limited (2010-2011), Peplin, Inc. (2004-2009), Hawaii Biotech, Inc. (2010-2012), Hunter Immunology Limited (2007-2008), and Ventracor Limited (2001-2003). Prior to returning to Australia in 2001, he spent much of his career internationally where he served in various roles including as a partner to PA Consulting Group, a United Kingdom-based management consultancy and a Principal Partner and Director of Consulting Services with PricewaterhouseCoopers (Coopers & Lybrand) in Hong Kong. In addition, Mr Spooner has owned and operated several international companies providing services and has consulted to a number of American and Asian public companies.

 

Ben-Zion Weiner, BSc, MSc, PhD

Non-Executive Director

Dr Weiner has served on our Board of Directors since 2012. In a 37-year career at Teva Pharmaceutical Industries Ltd, he held various senior research and development positions, including Senior Vice President of Global Research and Development. Dr Weiner twice received the Rothschild Prize for industrial innovation - for the development of Copaxone for the treatment of multiple sclerosis, and alpha D3 for kidney and bone disorders. He is on the Board of Directors at Novaremed Ltd., the scientific advisory board at E-QURE Corp. and Breed IT, Corp. and has served on the Board of Directors at Geffen Biomed Investments Ltd (2010-2013), XTL Biopharmaceuticals Limited (2012-2013) and Breed IT, Corp.

 

 

Charlie Harrison – BA, LLB (Hons)

Company Secretary

Mr Harrison joined Mesoblast as a legal counsel in 2013. He was previously a senior associate at the international law firm Allens, working in their Hong Kong and Melbourne offices for nine years as a corporate lawyer. Mr Harrison has an Arts/Law degree from the University of Melbourne. He was appointed Company Secretary in 2014.