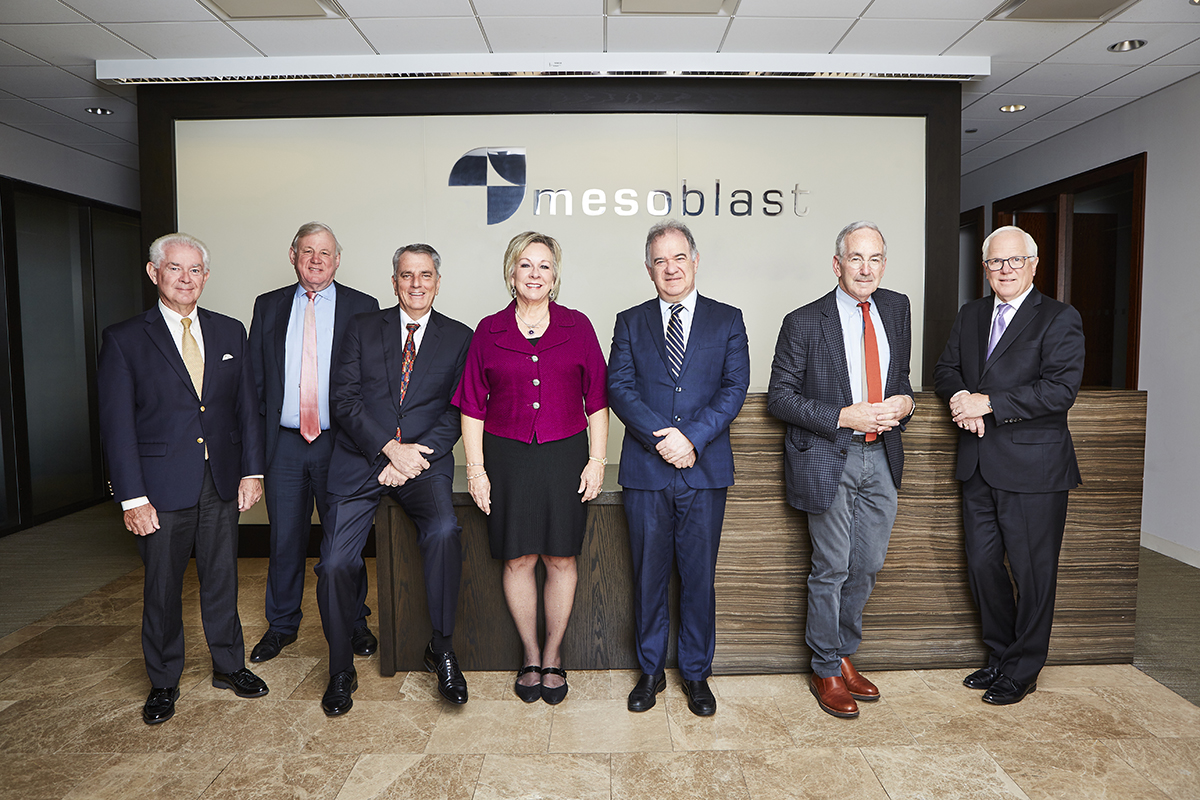 From left to right:  William (Bill) M. Burns (Non- Executive Vice Chairman); Donal O'Dwyer (Non-Executive Director); Michael Spooner (Non-Executive Director); Shawn Cline Tomasello (Non-Executive Director); Silviu Itescu (Executive Director); Eric A. Rose (Non-Executive Director) and Joseph R. Swedish (Non-Executive Chairman)

Joseph R. Swedish – MHA

Non-executive Chairman

Joseph. R. Swedish has more than two decades of healthcare leadership experience as the CEO for major United States healthcare enterprises. Most recently, he has served as Executive Chairman, President and CEO of Anthem Inc., America's leading health benefits provider. For 12 consecutive years, Modern Healthcare named Mr Swedish as one of the 100 Most Influential People in Healthcare, ranking in the top 20 of the health sector's most senior level executives, high-level government administrators, elected officials, academics, and thought leaders for five consecutive years. Prior to joining Anthem, Mr Swedish was CEO for several major integrated healthcare delivery systems, including Trinity Health and Colorado's Centura Health. He has been a Mesoblast board member since June 2018, and also serves on the boards of IBM Corporation, CDW Corporation, and Centrexion Therapeutics. Mr Swedish is a member of Duke University's Fuqua School of Business Board of Visitors. Previously, he was Chairman of the Catholic Health Association. Mr Swedish received a bachelor's degree from the University of North Carolina and his master's degree in health administration from Duke University.

 

William M. Burns – BA

Non-executive Vice Chairman

Mr Burns has served on the Board of Directors since 2014 and was appointed Vice Chairman in 2016. He spent his entire management career at the Beecham Group and F. Hoffmann-La Roche Ltd. Mr Burns was Chief Executive Officer of Roche Pharmaceuticals from 2001 to 2009, when he joined the Board of Directors of F. Hoffmann-La Roche Ltd. until he retired in 2014. He is the Chair of Molecular Partners, and has been a Non-Executive Director of Shire PLC, Chugai Pharmaceutical Co., Genentech, Crucell, and Chairman of Biotie Therapies Corp. from 2014 until its sale to Acorda Therapeutics Inc. in 2016. Mr Burns is also a member of the Oncology Advisory Board of the Universities of Cologne/Bonn in Germany. In 2014, he was appointed a trustee of the Institute of Cancer Research, London, and in 2016 a Governor of The Wellcome Trust in London, UK.

 

Silviu Itescu – MBBS, FRACP

Chief Executive Officer (Executive Director)

Dr Itescu has served on the Board of Directors since the Company's founding in 2004, was Executive Director from 2007, and became Chief Executive Officer and Managing Director in 2011. Prior to founding Mesoblast in 2004, he established an international reputation as a physician scientist in the fields of stem cell biology, autoimmune diseases, organ transplantation, and heart failure. Dr Itescu has been a faculty member of Columbia University in New York, and the University of Melbourne and Monash University in Australia. In 2013, Dr Itescu received the inaugural Key Innovator Award from the Vatican's Pontifical Council for Culture for his leadership in translational science and clinical medicine in relation to adult stem cell therapy. In 2011, he was named BioSpectrum Asia Person of the Year. Dr Itescu has consulted for various international pharmaceutical companies, has been an adviser to biotechnology and health care investor groups, and has served on the Board of Directors of several publicly-listed life sciences companies.

 

Donal O'Dwyer – BE, MBA

Non-Executive Director

Mr. O'Dwyer has served on our board of directors since 2004. He has over 25 years of experience as a senior executive in the global cardiovascular and medical devices industries. From 1996 to 2003, Mr. O'Dwyer worked for Cordis Cardiology, the cardiology division of Johnson & Johnson's Cordis Corporation, initially as its president (Europe) and from 2000 as its worldwide president. Prior to joining Cordis, Mr. O'Dwyer worked with Baxter Healthcare, rising from plant manager in Ireland to president of the Cardiovascular Group, Europe, now Edwards Lifesciences. Mr. O'Dwyer is a qualified civil engineer with an MBA. He is on the board of directors of a number of companies including Fisher & Paykel Healthcare Ltd and NIB Holdings Ltd. He also served on the board of Cochlear Ltd for 15 years and retired from their board in October 2020. With his experience as a senior executive and a director, as well as his extensive experience in the cardiovascular and medical devices industries, Mr. O'Dwyer provides business, science, engineering and management expertise.

 

Eric Rose – MD

Non-Executive Director

Dr Rose has served on the Board of Directors since 2013. He is currently Chairman and Chief Executive Officer of SIGA Technologies and Executive Vice President, Life Sciences at MacAndrews & Forbes, Inc., the holding company of Ronald O. Perelman. From 2008 through 2012, Dr Rose served as the Edmond A. Guggenheim Professor and Chairman of the Department of Health Evidence and Policy at the Mount Sinai School of Medicine. From 1994 through 2007, he served as Chairman of the Department of Surgery and Surgeon-in-Chief of the Columbia Presbyterian Center of New York Presbyterian Hospital. From 1982 through 1992, Dr Rose led the Columbia Presbyterian heart transplantation program in the United States. He currently sits on the Board of Directors of ABIOMED.

 

Michael Spooner – BCom, ACA

Non-Executive Director

Mr Spooner has served on the Board of Directors since 2004. During this period he has filled various roles including as Chairman from the date of the ASX public listing in 2004 until 2007, Chair of the Audit and Risk Committee as well as a member of the Remuneration Committee. Over the past several years Mr Spooner has served on the Board of Directors in various capacities at several Australian and international biotechnology companies, including BiVacor Pty Ltd (2009-2013), Advanced Surgical Design & Manufacture Limited (2010-2011), Peplin, Inc. (2004-2009), Hawaii Biotech, Inc. (2010-2012), Hunter Immunology Limited (2007-2008), and Ventracor Limited (2001-2003). Prior to returning to Australia in 2001, he spent much of his career internationally where he served in various roles including as a partner to PA Consulting Group, a United Kingdom-based management consultancy and a Principal Partner and Director of Consulting Services with PricewaterhouseCoopers (Coopers & Lybrand) in Hong Kong. In addition, Mr Spooner has owned and operated several international companies providing services and has consulted to a number of American and Asian public companies.

 

Shawn Cline Tomasello – BS, MBA

Non-Executive Director

 With more than 30 years' experience in the pharmaceutical and biotech industries, Shawn Cline Tomasello has substantial commercial and transactional experience. Since 2015, Ms Tomasello has been Chief Commercial Officer at leading immuno-oncology cell therapy company Kite Pharma, where she played a pivotal role in the company's acquisition in 2017 by Gilead Sciences for $11.9 billion. Prior to this she served as Chief Commercial Officer at Pharmacyclics, Inc., which was acquired in 2015 by AbbVie, Inc. for $21 billion. Ms Tomasello previously was President of the Americas, Hematology and Oncology at Celgene Corporation where she managed over $4 billion in product revenues, and was instrumental in various global expansion and acquisition strategies. She has also held senior positions at Genentech, Pfizer Laboratories, Miles Pharmaceuticals and Procter & Gamble. Ms Tomasello currently serves on the Board of Directors of Gamida Cell, Ltd. and UroGen Pharma, Ltd, TCR2 Therapeutics, and 4D Molecular Therapeutics. She previously served on the board of Principia Biopharma; acquired by Sanofi, Abeona Therapeutics (resigned), Clementia Pharmaceuticals, Inc. which was acquired by Ipsen, SA, and Diplomat Specialty which was acquired by United Healthcare. She received a MBA from Murray State University and a B.S. in Marketing from the University of Cincinnati. Her extensive experience in the pharmaceutical and biotech industries, particularly in the commercial and transactional fields, provides industry, leadership and management expertise.

 

Philip J. Facchina – MBA

Non-Executive Director

Mr Facchina brings more than 35 years of experience in corporate strategy, finance, and business development across several industries, including healthcare. Since 2018, Mr Facchina has been Chief Strategy Officer at SurgCenter, overseeing the company's strategic relationships, including its relationships with the broad US ambulatory surgical center (ASC) market and its constituents. Prior to SurgCenter, Mr Facchina spent two decades in the public and private capital markets, where he directly managed public and private capital transactions of equity and debt, led M&A and special advisory processes including take-privates. From 2008 to 2017, Mr Facchina served as a Partner, Co-Portfolio Manager and the Chief Operating Officer of Ramsey Asset Management, an institutional investment management firm, and from 1998 to 2008 Mr Facchina led the technology, media, and communications and healthcare investment banking groups of FBR Capital Markets. Mr Facchina currently serves as an independent director for ViON Corporation and MilltechFX, and is Advisor to the CEO of Johanna Foods Inc., where he chairs the Audit Committee. Previously, among other directorships and committee posts, Mr. Facchina served on the Board of Web.com (Nasdaq:WEB), where he led Corporate Governance.


 

Niva Sivakumar – BCom, LLB

Company Secretary

Ms Sivakumar joined Mesoblast's legal team in 2014 and is a member of the company's Intellectual Property Committee. Previously, she was a senior associate in the corporate and commercial teams at major law firm, Dentons, and a senior lawyer at K&L Gates. Ms Sivakumar has a Commerce/Law degree from the University of Melbourne. She was included in The Legal 500's Guide to Australia's Rising Stars 2019.